Dandruff Natural Remedies: Shampoo, Hair Masks, Supplements, and More
DISCLAIMER
This blog does not intend to provide diagnosis... Read More

This blog does not intend to provide diagnosis, treatment, or medical advice. Read more. The content provided on this blog is for informational purposes only. Please consult with a physician or other healthcare professional regarding any medical or health-related diagnosis or treatment options. Information on this blog should not be considered as a substitute for advice from a healthcare professional. The claims made about specific products throughout this blog are not approved to diagnose, treat, cure, or prevent disease.
In this article: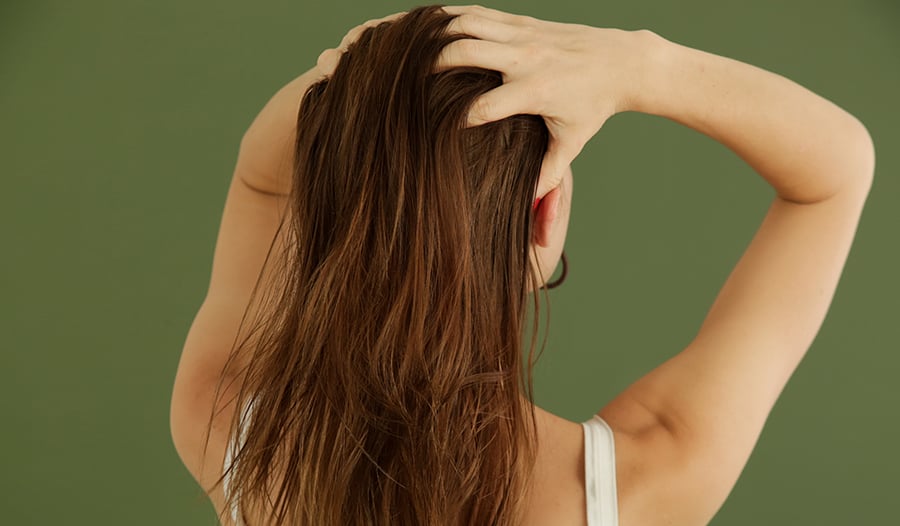 Originally Posted February 2018 / Updated 2023
Dandruff—those persistent flakes that fall from your scalp and land on your clothes, eyebrows, mustache, and furniture—can be embarrassing. And annoying, as you frequently reach up to scratch your head! Though dandruff isn't contagious nor considered a serious medical condition, it is a nuisance that can flare up even more in cold or dry weather and when you're stressed.
What Is Dandruff?
Dandruff is a mild form of seborrheic dermatitis1. It can develop from:
Irritated skin

Dry skin

Oily skin

Malassezia (a yeast-like fungus)

Sensitivity to hair care products
According to the Mayo Clinic, dandruff generally starts in young adulthood and continues through middle age, particularly for males. Skin issues like psoriasis or eczema, some diseases that impact the nervous system, such as Parkinson's, and having a weakened immune system can trigger dandruff.2
The Best Natural Ways to Handle Dandruff
Dandruff means your scalp is shedding dead skin cells. And because your scalp skin replaces itself roughly every month, dandruff can be ongoing. Many store-bought remedies contain harsh chemicals and ingredients that may make the problem worse in the long run. Instead, try these gentler natural and DIY remedies that provide great results.
Shampoo
Hair-washing is part of most people's daily routine, so gentle shampoo with ingredients targeted to fight dandruff is a must. Look for ingredients such as 2% salicylic acid, zinc, aloe vera, tea tree oil, and/or chamomile. Studies suggest that essential oils other than tea tree oil may also be powerful anti-dandruff remedies. Herbal oils such as rosemary and lime contain aromatic secondary metabolites that offer antimicrobial properties.3
Tea Tree Oil
Many shampoos contain tea tree oil, but this is another one that you can DIY, too. Tea tree oil, or Melaleuca alternifolia, is both an antibacterial and an antifungal. Tea tree oil, and tea tree oil-containing shampoos, are good remedies when scalp fungal and/or bacterial infections are suspected.
Before using it on your scalp, test it by placing a drop or two on the skin inside your wrist. If you don't have a reaction after about 10 minutes, you could try adding two drops of tea tree oil per ounce of shampoo. Close the shampoo bottle and shake vigorously before each use.
Herbs, Plants, and Minerals
Mother Nature's toolkit contains additional tools that have been shown to help with dandruff. Some are found in hair care products, while others make for simple home remedies:
Dandruff Remedies From the Kitchen
You probably already have home remedies for dandruff at your fingertips—in your pantry! If you choose to try these, don't try them all at once. Select one, try it for roughly two weeks, and see how it works for you. Not everyone gets dandruff for the same reasons, so what works for someone else may not be as effective for you. As always, direct any questions to your health practitioner and run these remedies by them before trying:
Emerging Natural Therapies
Ongoing studies are investigating the next great treatment option for dandruff. You may already see some of these popping up in shampoos and topical treatments! I'm keeping an eye on these potential therapies:
Biotin and B Vitamins
Studies suggest a connection between biotin, vitamin B6, nicotinate, and pantothenic acid and a healthy skin and scalp surface, which can help to control dandruff.6
Microbiome Support
You've heard of the gut microbiome, but did you know your scalp has a microbiome, too? The same study notes that different "pathways"—N-glycan biosynthesis, for example, that's linked to fungal cells adhering to the scalp—may create dandruff conditions, while others—pathways of vitamins, like the B vitamins above—can play a beneficial role in controlling dandruff.6 Ask your healthcare practitioner about general microbiome support and whether you may benefit from an oral prebiotic or probiotic.
The Bottom Line
Dandruff is an annoying, and sometimes embarrassing, but relatively harmless medical condition resulting in flakes shedding from the scalp onto clothes, facial hair, furniture, and other surfaces.
Thankfully, harsh chemicals are not required to manage dandruff. Various natural ingredients are currently incorporated into shampoos and topical treatments targeted at dandruff. And quite a few home remedies and DIY options may help ease dry scalp, treat oily scalp, and remove pesky flakes. Last but not least—there is hope! Research continues into natural methods for handling dandruff and its related scalp conditions.
References: