A 5-Step Self Care Routine Anyone Can Do
DISCLAIMER
This blog has not been approved by your local health department and is not intended to provide diagnosis, treatment, or medical advice. Read More

This blog has not been approved by your local health department and is not intended to provide diagnosis, treatment, or medical advice. The content provided on this blog is for informational purposes only. Please consult with a physician or other healthcare professional regarding any medical or health-related diagnosis or treatment options. Information on this blog should not be considered as a substitute for advice from a healthcare professional. The claims made about specific products throughout this blog are not approved to diagnose, treat, cure, or prevent disease.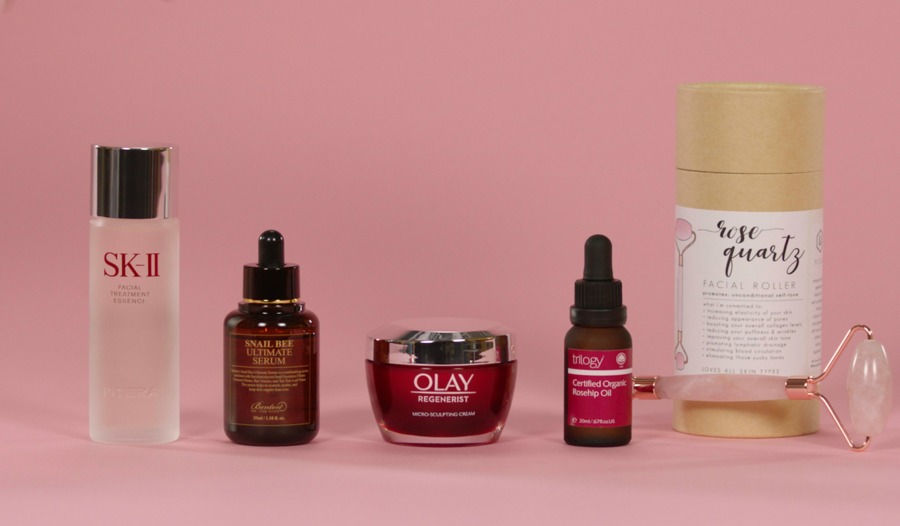 The Importance of a Simple Self-Care Routine

They say skincare is a part of self-care. Whether you have time for a 10-step or multi-step skincare routine or you only have two minutes with a rose quartz facial roller, making time for self-care is vitally important for your wellbeing. In the midst of a hectic schedule, finding the time for daily self-care can seem impossible, but this five-step skincare regimen is so quick and simple that anyone can do it.
What Is Self-Care and Why Is It Important?

Self-care not only involves taking care of essentials like eating, drinking plenty of water, and maintaining good health, but it also includes those indulgences that make you feel pampered or relaxed. Exfoliating devices, chemical peels, oil cleanses, facials, massages, and hydrating masks are all ways that help enhance your natural beauty while relaxing.

Since beauty and skincare are often forgotten when jobs, school, and children become first priority, self-care routines are especially important. Participating in an activity that you enjoy is a natural way to induce relaxation, enhance positive feelings, and improve focus. Self-care is essential to preventing "burnout" at work as it helps you regroup and reduce stress.

Scheduling some time for self-care is beneficial for nearly everyone. Perhaps an hour or two on the weekend, dubbed Self-Care Sunday, could be dedicated to refreshing and rejuvenating yourself along with beautifying your skin.
How Does Self-Care Correlate to Skincare?

Skincare should always be a top priority, but it is easy to neglect. Our skin is our largest organ and the first thing others see when they meet us. It is exposed to harsh environments with varying climates and elements. Alternating chemicals and pollution assault and age the skin every single day, resulting in fine lines, wrinkles, and large pores. With that in mind, taking just a few minutes each day to help our skin battle these elements is one of the best things we can do for it.

Skincare does not have to be tedious or time-consuming, and it does not require purchasing loads of different skincare products. Simply using the correct products in the right order can leave your skin feeling supple, hydrated, and soft with fewer fine lines and wrinkles. Additionally, pampering your skin can leave you feeling better mentally.
Developing a Skincare Routine

Some people cringe when hearing the word "routine." Perhaps it causes them to envision the famous 10-step Korean skincare routine or another regimen with many complicated steps. It is likely that most of us already engage in a few of these steps, but any multi-step routine can feel overwhelming. You want a skincare regimen that doesn't take a lot of time, or else you may fail to make it a daily habit and reap all the benefits.

That is why a simple five-step routine that is quick and easy to fit into any daily agenda is the perfect solution. The first thing to do in developing your skincare routine is to decide upon a time to make it happen. You will need anywhere from 5 to 10 minutes. Consider this time to be a small indulgence just for you to pamper your skin.

Try to pick a time when it is quiet and when there is little in the way of distractions. Prior to bedtime is ideal because most households tend to slow down then. Performing your skincare routine at night also gives the products time to absorb into your skin while you sleep.

Next, make it a habit. Even if you cannot do your skincare routine at the exact same time each night, try to make it happen. It is so easy to get off track when we have late nights at the office or are busy attending children's school events. Not only will you be continuing to improve your skin's overall health, but you can use those minutes to wind down from the day.
The Simple Five-Step Skincare Routine
When performed on a regular basis, this routine could reduce the appearance of wrinkles, enhance circulation, and promote collagen growth, which is essential to maintaining the skin's elasticity. The steps are quick and easy, and the entire routine only requires five products. Be sure to begin with freshly washed and exfoliated skin.
Self-Care Routine Step 1: SK-II Facial Treatment Essence

First, start off with SK-II Facial Treatment Essence. This prepares your skin to accept the remaining products with anti-aging complexes and hydration enhancers. Specifically, SK-II Facial Treatment Essence contains PITERA, a proprietary liquid ample in amino acids, organic acids, minerals, and vitamins.

You can apply it by applying a few drops to your fingers and gently patting it into the face and neck. Patting, instead of rubbing, allows for better product absorption and is gentler on your face.
Self-Care Routine Step 2: Benton Snail Bee Ultimate Serum

The second step is applying your serums. The Benton Snail Bee Ultimate Serum is a great product for your skin. It could help to repair skin, stop break-outs, and control hyperpigmentation with active ingredients including snail mucin, bee venom, and tea tree water.

The Benton Snail Bee Ultimate Serum is applied by dropper directly to the face, paying special attention to problem areas. You can gently rub it into the skin using upward motions with the fingertips. Its viscosity is similar to that of other serums, and it absorbs quickly and has a light feel.
Self-Care Routine Step 3: Olay Regenerist Micro-Sculpting Cream

The third step is to moisturize and lock in the healing serum. Olay Regenerist Micro-Sculpting Cream is loaded with Vitamin B3, amino-peptides, and hyaluronic acid, which have been shown to increase elasticity and reduce signs of aging in the skin. This cream is also comes in a fragrance-free version that is ideal for anyone who might have a sensitivity to scented products.

The advanced anti-aging ingredients in Olay Regenerist Micro-Sculpting Cream mean that you could see visible results in just one day of use. Apply this cream by dotting it onto the cheeks, forehead, and chin and smoothing it evenly over your face using upward strokes.
Self-Care Routine Step 4: Trilogy Certified Organic Rosehip Oil

Rosehip oil is packed with fatty acids necessary for building strong cellular walls in skin cells that keep moisture from escaping. Its phenols, or organic compounds, have antiviral, antibacterial, and antifungal properties. The Trilogy Certified Organic Rosehip Oil has no less than 80% essential fatty acids, including omega-3, omega-6, and omega-9.

Rosehip oil could also increase collagen production, moisturize, and help skin to regenerate. It should improve the appearance of acne scars and stretch marks as well as minimize fine lines and wrinkles.

You can apply this oil by the dropper directly to the skin and gently smooth it over the face. It will absorb quickly into the skin.
Self-Care Routine Step 5: Honey Belle Rose Quartz Facial Roller

Saving the best for last, the Honey Belle Rose Quartz Facial Roller has been shown to stimulate blood circulation and reduce puffiness. The roller can be used on all skin types and offers an indulgent facial massage. Facial rollers generally have a large end and a smaller end. The large end is ideal for rolling the forehead, cheeks, and neck while the smaller end is best for the nose and under the eyes.

Rollers come in different stones like jade, obsidian, and rose quartz, but the rose quartz version uses a naturally cool stone and it keeps its cool even on contact with the skin. It is also one of the most durable stones.

Benefits of using the Honey Belle Rose Quartz Facial Roller on a regular basis may include:
Increased elasticity in the skin

Increased collagen production

Better skin tone

Improved lymph drainage clearing out toxins

Improved blood circulation in skin

Less puffiness

Fewer fine lines and wrinkles

Minimizes the size of pores

Prior to using the roller, the skin should still be moist from the rosehip oil. To use a facial roller, gently roll from the nose and lips outward and upward toward your temples. On the forehead, begin at your brow ridge and roll upwards. Use the small side of the roller and roll under your eyes toward your temples. Roll each area at least three times for the best results.

Chilling the roller in your refrigerator prior to use can help to reduce puffiness even more and feels nice on moisturized skin.
Indulge in Daily Self-Care With a Simple Skincare Regimen

Let this simple skincare beauty treatment become a part of your daily self-care routine. Not only will you improve the look and health of your skin, but you will reap the benefits of engaging in a little self-love each day.