6 Easy Eco-Friendly Habits to Implement Today
DISCLAIMER
This blog does not intend to provide diagnosis... Read More

This blog does not intend to provide diagnosis, treatment, or medical advice. Read more. The content provided on this blog is for informational purposes only. Please consult with a physician or other healthcare professional regarding any medical or health-related diagnosis or treatment options. Information on this blog should not be considered as a substitute for advice from a healthcare professional. The claims made about specific products throughout this blog are not approved to diagnose, treat, cure, or prevent disease.
In this article: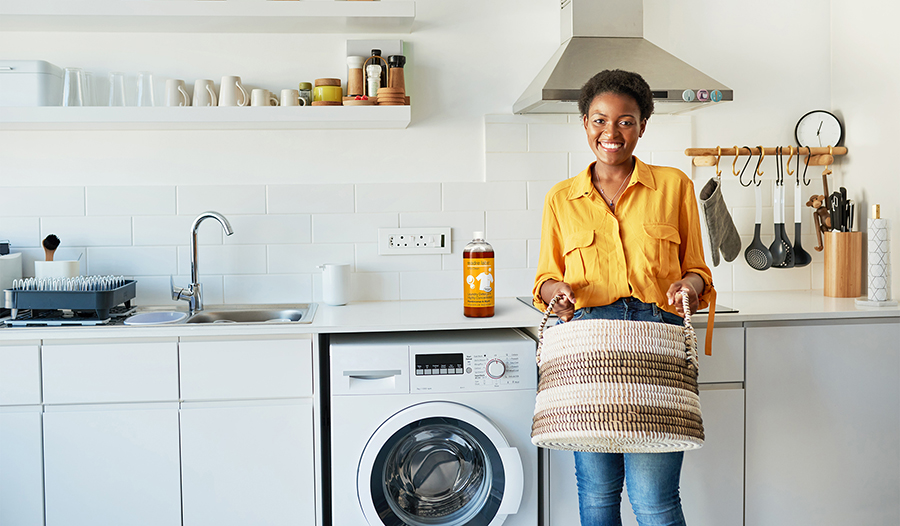 When considering the simple choices you can make to protect and enhance our environment, you might first think of driving less, recycling more, and repurposing items that may otherwise end up in the landfill. These are all wonderful ways to take care of our earth. There are many other simple habits you can implement at home to further your eco-friendly efforts.
Making your home more sustainable can be as simple as swapping some of your typical household items for more environmentally friendly options. You may also introduce new products into your daily routine that make life a little easier and produce less waste.
Any and all efforts to live "green" help make our planet more beautiful and preserve it for future generations. Here I offer simple, easy suggestions for implementing more eco-friendly habits today. While this list is not exhaustive, it is a great start for those looking to be more mindful when it comes to supporting our environment.
1. Pitch the Paper
Paper towels are a household staple for many of us. Their disposability is one of the appeals of paper towels. But, while convenient, tossing paper towels in the trash after each use creates a lot of waste and contributes to deforestation. Luckily, there are eco-friendly alternatives for cleaning your counters and other messes throughout your house or wrapping around a sandwich to-go.
Reusable Dishcloths
Reusable dishcloths are perfect for your cleaning tasks, like wiping down the counters, cleaning a spill on the floor, or cleaning out the fridge. And they are more absorbent and stronger than standard paper towels, so you will get a ton of use out of them. Rather than tossing them after each use, simply throw them in the washing machine and they are good to go for another round of cleaning!
Sponges
Another waste-reducing alternative to paper towels for your cleaning tasks is a sponge. Sponges that are biodegradable or compostable are especially eco-friendly. To further reduce waste, instead of tossing your sponge in the trash after a few days, repurpose it. For example, once your old sponge is retired from dish duty, use it for dirtier jobs, like cleaning the bathroom or outdoor areas. You can also use it as a seed starter or to help keep plants hydrated.
2. Eco-friendly Food Storage
The options for reusable food storage containers are vast—and go far beyond the Tupperware of generations past. Families with kiddos will appreciate containers made specifically for storing snacks or liquids for school or a road trip. Other products make your life easier by going directly from the freezer to the microwave to quickly warm up a meal.
Reusable Food Bags
If you use paper towels or plastic bags for short-term food storage, like packing a sandwich or handful of grapes in your lunch box, consider other reusable options instead. Reusable food bags are an excellent option and offer so many other uses as well.
While the up-front investment is higher for reusable food bags when compared to disposable plastic bags, over time you will find these products are well worth the purchase. Whether you are packing a sandwich, sliced fruit, or raw veggies to-go, or you need a way to store your meat while it marinates, slim packing for your protein powder when you travel, or a clean place to hold your belongings while at the beach, these reusable packs are a perfect solution.
Reusable food bags are a convenient, sustainable replacement anytime you'd use disposable plastic baggies that would otherwise end up in the landfill. And, because they are made of silicone, they are non-toxic, temperature resistant, and hypoallergenic, making them a healthy option for you and your family.
If you're looking for other ways to reduce your use of disposable plastic bags, you can bring your own cotton produce bags to the grocery store for your produce. With a simple change in products, you can maintain your eco-friendly goals while meeting the needs of yourself and your family.
3. Reusable Water Bottles
One eco-friendly habit that is not only good for the environment but could increase your water intake as well is swapping single-use water bottles for a reusable option. I recommend an insulated bottle that keeps your water cold throughout the day and is larger than a standard plastic bottle—so you're likely to drink more fluid and stay hydrated throughout the day. As a bonus, fewer disposable plastic bottles at home saves fridge space and cuts down on the number of items you need to buy at the store each week.
4. Green Cleaning
When it comes to cleaning solutions, whether it's for your dishes or laundry, there are eco-friendly options made with your family and the planet in mind. Many traditional cleaning products contain ingredients that pass through water treatment plants in small quantities, leading to widespread algal growth and damaging effects on aquatic life. Here are some alternatives that help clean up your cleaning supplies.
Cleaner Cleaning Solutions
Look for dishwashing liquid and laundry detergent that is eco-friendly and formulated with only natural and plant-based ingredients. Additionally, it is important for ingredients in both products to be biodegradable and sustainable, making them environmentally protective products. You can also look for products that are verified by the Environmental Working Group (EWG), which guarantees the safety of their products.
Green Your Laundry
Another cleaning item that accumulates waste in landfills is dryer sheets. While it may reduce static and leave your clothes with a fresh scent, a single dryer sheet can take years to decompose in the landfill.
Two great alternatives to these sheets are dryer balls and compostable dryer sheets. Dryer balls work similarly to dryer sheets and can reduce energy costs over regular and compostable dryer sheets. Often made from wool, dryer balls reduce the amount of time it takes to dry your laundry and help de-clump your clothes.
Luckily, both dryer balls and compostable dryer sheets come with amazing scents, like lavender and lemon. You can even customize your own scent by adding a few dashes of essential oil to your dryer ball.
5. Eco-Friendly Self Care
Creating an eco-friendly home shouldn't stop in the kitchen and laundry room. There are lots of easy ways to green your self-care regimen while benefiting both you and the environment.
You may not realize that traditional face wipes you use to remove your makeup or clean your face often contain plastics or synthetic fibers that aren't biodegradable. If you're using these face wipes during both your morning and nightly skin-care routine, switching to biodegradable face wipes can significantly reduce the amount of trash that builds up in your garbage—and landfills—each week.
Similarly, the materials used to make traditional toothbrushes are not biodegradable. By some estimates, it could take up to 500 years or more for one single plastic toothbrush to decompose—that's quite a footprint for a few months of clean teeth. Try a biodegradable toothbrush that will decompose in a matter of months.
6. Eat Green
While reducing the amount of waste you produce is a cornerstone of environmental mindfulness, choosing sustainable food and drink options is another way to support mother nature.
Green Your Beans
Coffee is one of the most widely consumed beverages in the world, yet the production and harvesting of coffee beans can take a toll on the environment. Coffee that is certified by the Rainforest Alliance has been produced under specific standards to conserve biodiversity and prioritize sustainability in agriculture. For a more eco-friendly cup of joe, choose coffee with the "Rainforest Alliance Certified" seal. Look for other food and drink products, like chocolate and tea, and other household items that carry this seal as well.
Sustainable Seafood
To make your dinner plate more earth-friendly, choose seafood that is sustainably caught. When it comes to fishing, this practice means selective harvesting and a "pole and line" fishing method that reduces the bycatch of other sea animals when fishing for tuna, for example. Sustainably caught and canned fish supports the future of our oceans by maintaining biodiversity.
Choose Organic When Possible
To further support the health and diversity of our oceans, look for organically raised animal products and produce. To obtain organic certification for their food items, farmers must avoid the use of herbicides, pesticides, and chemical fertilizers that could enter waterways and damage the ocean environment. Choosing these organic items over conventionally grown and raised meat and produce can reduce the number of pollutants that enter our waterways.
Takeaway
There are many ways to enhance your environmentally cautious habits through the household products you use and the food and drinks you enjoy. Without having to change much, you can easily amp up your efforts to protect mother nature by making a few simple swaps and mindful choices.
If making all of these changes at once seems overwhelming, simply choose a few new habits each week that feel manageable and build from there. Even the smallest of changes can have a big habit over time.