How To Pack Beauty Products For Travel
DISCLAIMER
This blog does not intend to provide diagnosis... Read More

This blog does not intend to provide diagnosis, treatment, or medical advice. Read more. The content provided on this blog is for informational purposes only. Please consult with a physician or other healthcare professional regarding any medical or health-related diagnosis or treatment options. Information on this blog should not be considered as a substitute for advice from a healthcare professional. The claims made about specific products throughout this blog are not approved to diagnose, treat, cure, or prevent disease.
In this article: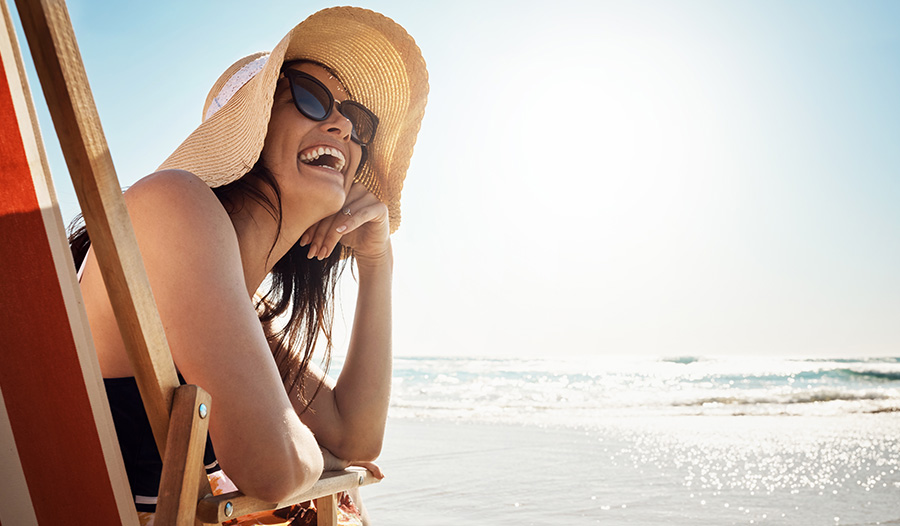 Whether you're doing a staycation for the weekend only a few miles from your house or flying all the way to the other side of the world for a multi-week adventure, packing in the most efficient way is of the utmost importance! As someone who travels via airline at least ten times per year and is married to a pilot, I have had to hone my process many times over the years.
Now that travel in all forms is finally regaining momentum, here are my suggestions for how to pack multitasking beauty products so that you can pack more of what you really want—clothes and shoes!
Since it makes sense for my brain, I plan to go in order of how I apply my beauty products when doing a full face of makeup. That said, skincare always comes first! When at home, with access to my entire arsenal, my full routine will consist of a makeup remover, cleanser, toner, essence, eye cream, serum, and moisturizer. When traveling, there is no way I could fit that all into my kit, so this is how I accomplish a full skincare routine using half the number of products!
Pared-Down Skincare
Before I make any suggestions, keep this in mind. If you choose to carry-on your luggage, you will need to abide by the 3-1-1 rule. According to the Transportation Security Administration's (TSA) website, "Each passenger may carry liquids, gels and aerosols in travel-size containers that are 3.4 ounces or 100 milliliters. Each passenger is limited to one quart-size bag of liquids, gels, and aerosols. Common travel items that must comply with the 3-1-1 liquids rule include toothpaste, shampoo, conditioner, mouthwash, and lotion." If you choose to check your luggage, there are no size or quantity restrictions.
Makeup remover is a non-negotiable for me, so I will bring with a high-performing cleansing oil or balm and skip an additional cleanser. I recommend looking for products that specifically reference being able to remove waterproof mascara, as that's one of the most budge-proof products you'll have on your face. If it can take that off, it can take everything else off, too!
Thankfully, toner can be used to remove any additional makeup remnants left behind after using your cleansing oil or balm, so you won't go to bed and risk any pillow staining or skin issues. This is a product that you will always find in my travel bag. What I will skip, however, is essence. While it's a wonderfully luxurious step in my at-home routine, it isn't a necessity, so I leave it at home.
Never does my skin not need moisture, but especially this time of year, a hydrating serum or oil is a necessity. As long as I have a hydrating serum or oil with me, I can skip an eye cream. It isn't ideal, but it saves me space and to avoid having a dry under eye, I just bring my serum or oil up to where I would have normally applied it.
The final step in my process takes me right into makeup application, depending on how I expect my skin will perform that day. If it isn't hot and humid where I traveled to, I will use a hydrating primer as both my moisturizer and makeup primer. However, if I know my skin will get oily throughout the day, I will moisturize and then go in with a mattifying primer. Something important to note is that you need to be using SPF no matter what the weather is like where you're traveling to! If I don't bring a moisturizer that contains SPF with me, I either make sure my foundation does or will bring an all over sunscreen that I'll put on my face before heading out into the sun—or clouds!
Once your skin is prepped, the possibilities are endless when it comes to your next steps. If you're spending the day at the beach, my suggestion is you stop after sunscreen. No need to wear makeup when you run the risk of sweating it all off anyway! However, if you either insist on wearing makeup no matter the occasion or have a specific occasion you want to wear makeup for, here are my tips for reducing the number of products you'll have to bring in order to still get a flawless look!
Multi-tasking But Minimal Makeup
If you have very limited space, I recommend bringing a fuller coverage foundation and foregoing a concealer. I would also suggest you go this route if you don't plan to wear a lot of makeup and just intend on bringing a tinted moisturizer or CC cream as your base.
If you don't have the space for an entire bottle of foundation, you can opt to bring only a concealer as your singular coverage option. If you only have interest in covering minor darkness under your eyes and highlighting the center of your face, bring a concealer that is one shade lighter than your skin color. If you want to cover minor darkness under your eyes and need to spot conceal at various places on your face and/or body, bring a concealer that matches your skin color. Since some concealers come in very small containers, you could bring both shades and be able to create almost the exact same look as you would have had you brought a foundation.
While at home, I occasionally contour and bronze, but when traveling, I only bronze. If you are doing very light makeup, or just have limited space, I would recommend packing bronzer and skipping blush. What form the bronzer is in is up to you. I have been loving cream bronzers, but those aren't as multi-functional. If you bring a powder bronzer, that can double as your eyeshadow for a monochromatic look.
If you have the space for blush, I suggest you bring it, and in cream form. Why cream form, you ask? Multitasking! A cream blush can be used, obviously, as a blush, but also as a lip product!
Highlighter is another multi-purpose product, as not only can you use it to highlight the high points of your face, you can also use it as eyeshadow and on your body to add glow to your shoulders and collarbone.
For me, setting powder is a must because I have oily/combination skin. If you can skip it, it will save space in your bag. If you can't, I recommend a pressed powder, as a loose powder normally has much larger packaging. You can also find a setting spray that works as a primer and mattifier, if you need the best bang for your buck!
If you have a bronzer, you're all set for eyeshadow. If you want to add a little more dimension, just bring a pencil eyeliner that you can keep in the waterline for a more understated effect or apply to the lash line and smudge out or wing for a more dramatic look.
If you have a concealer with you, just use that as your eyelid primer. It isn't ideal, but it will save having to pack another product!
Mascara is another non-negotiable for me, so bring your favorite because it is the type of product that will make it look like you really made yourself up!
Brows have become such an important part of my routine that I can't imagine leaving either of the steps I do at home, so I don't. Traveling still needs to be fun, right?! I always pack a brow pencil and clear brow gel, so that all the work I did to fill them in lasts all day.
Last but not least are the lips! I am predominantly a lip gloss wearer and that doesn't change when traveling. Whether it's clear, plumping, tinted, shimmery, and/or full color, I always have a few options with me. Thankfully, they don't normally take up room in my suitcase because they're in my purse where I can reach them quickly to reapply as needed.
So, you have your skincare and makeup packed, but you feel like you're missing something. That's because you have no tools yet! It's great that you have everything you need to look your best, but how are you going to apply it all? Here are my tips for that!
Must-Have Tools
One of my favorite makeup tools of all time is a makeup sponge. When I'm in a hurry, I can use it to apply my foundation, concealer, cream blush, cream bronzer and even powder! For that reason, it's a travel must-have for me!
If you plan to bring powder products and/or an eyeshadow palette, you will likely need brushes. My suggestion would be to look for a set that gives you everything you need, keeping in mind that a powder brush can double as a blush and bronzer brush (when cleaned off in between) and you really only need a crease and possibly pencil brush to do a beautiful eye look.
Keep A Travel Kit That's Ready To Go
Traveling can be stressful, but packing doesn't have to be! My final suggestion is to have a separate travel kit where you place all of these items, ready to go when you are. That way, you don't have to stress about doing your makeup before leaving and then packing once you're done. Having duplicates or travel-size versions of your favorites already packed and ready to go will save you a massive amount of time—and a giant headache!