7 Things You Can Do to Reduce Your Beauty Trash
DISCLAIMER
This blog does not intend to provide diagnosis... Read More

This blog does not intend to provide diagnosis, treatment, or medical advice. Read more. The content provided on this blog is for informational purposes only. Please consult with a physician or other healthcare professional regarding any medical or health-related diagnosis or treatment options. Information on this blog should not be considered as a substitute for advice from a healthcare professional. The claims made about specific products throughout this blog are not approved to diagnose, treat, cure, or prevent disease.
In this article: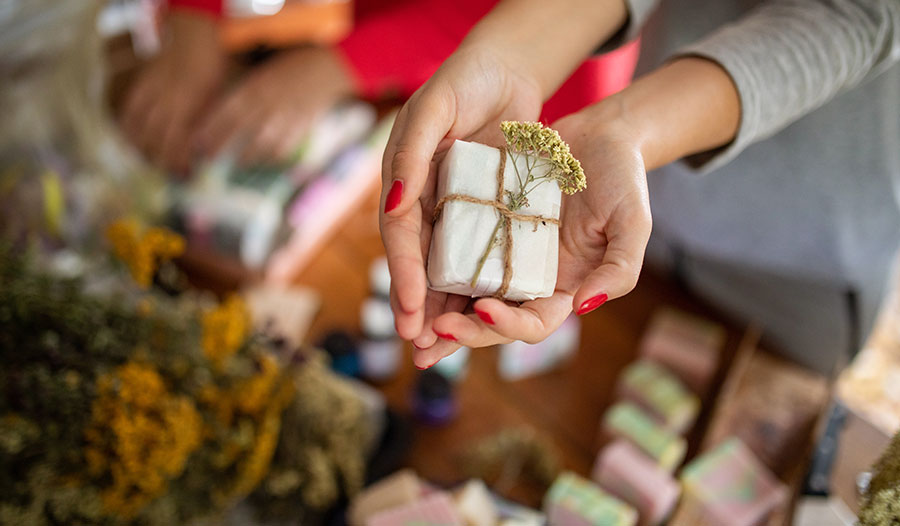 Sustainability isn't just some big buzzword anymore, and there are several changes we can all make together for a better planet, but also for better health.
So many new brands and products have improved their ingredients recently. Some have no more chemicals and preservatives to lengthen shelf life—as well as plastic-free packaging, because plastic is not biodegradable, and it is also toxic.
Some brands have tried to reduce their carbon footprint by choosing biodegradable products that won't harm us and our planet.
Here are a few items you might try on your next shopping trip. They are refillable or reusable products—nothing single-use or disposable here. And they are fully biodegradable, including the packaging. They might even help you save some cash.
Wash with Soap and Shampoo Bars
Try soap and shampoo bars instead of liquid shower gels, liquid hand wash and shampoo!
I grew up washing my hands and body with soap, but quickly kinda lost my way with the arrival of the liquid soaps and shampoos that looked way cooler and hip at the time, without realizing that they were all packaged in plastic that never got recycled or reused. After so many years, still very little is recycled or reused. So, let's rediscover soap: to wash our hands, bodies, and hair. I personally consider soap an affordable luxury, since the price is low and I can always try a new scent or brand, and experience aromatherapy and its spa-like impact!
Try a soap such as Weleda Calendula Soap to shower and wash hands every day. It will suit most of your skin issues or needs with its natural anti-inflammatory, anti-bacterial and healing benefits. It's great for rashes, scratches, eczema, psoriasis, chapped skin, insect bites, and damaged skin. I really like soaps because they can be shared with the whole family for washing, plus they are very versatile and travel-friendly.
Try a shampoo bar like Acure Coconut & Argan Shampoo Bar instead of a regular shampoo. Shampoo bars work well at cleansing both hair and scalp—plus they help eliminate plastic containers, and also cut down on the energy involved in transportation, which impacts carbon emissions.
If you want to be even more minimalistic, you can find a soap that works well to wash your hair and your body. But since products have been labeled for only one use for most of our lives, it can take some time to get used to the idea.
Stop Buying Single-Use Products
Say no to single-use items. For instance, try a reusable cotton pad kit like this one from Afterspa to remove makeup. You can easily wash and reuse it endlessly. It will reduce materials going into our landfills but also reduce your spending.
Try Moisturizing Oil
As we transition from creams and lotions (a mix of oils and water and added ingredients) that always came packaged in plastic packaging, we rediscover oils. Oils are making a huge comeback in beauty, and when they are not included in creams and lotions, are actually more nourishing and potent for our skin because of the concentrated nutrient content.
I often recommend a multitasking oil such as jojoba oil, like this one from Cliganic. Because it is the closest to our own body's natural oils, it won't leave a greasy feel, and the skin absorbs it quickly. It also has many purposes: as a makeup remover, as a moisturizer for the face and body (including hands and feet), and even as a hair treatment—to take away frizziness and dryness.
Rosehip seed oil has amazing anti-aging properties, and I like this one from Sky Organics. If you are worried about fine lines and loss of firmness, try this oil to restore elasticity, help to correct dark spots, and reduce the appearance of scars.
Castor seed oil is another amazing anti-aging oil, but also great to help restore your hair growth. Try this one from Cococare. As we age we might notice thinner brows, less full eyelashes and even receding hairline, but castor seed oil might help with that. You may notice results in about a month.
Upgrade Your Dental Products
Say goodbye to plastic toothbrushes: bamboo toothbrushes work just as well, and they have a real impact on how much plastic we're putting into the environment. And bamboo grows quickly, so next time you are buying a toothbrush, opt for a bamboo one made with BPA-free nylon bristles. Wowe has a 4-pack with charcoal-infused bristles.
There's a huge boom with products that are not packaged in plastic. If you haven't already tried a "do it yourself" baking soda toothpaste, don't feel bad. A lot of people are discouraged about buying the many ingredients that these DIY's sometimes require. Instead, try whitening toothpaste tablets like these ones from Hello. These tablets fizz so you'll definitely have tons of fun with these. And they are amazing for travel!
Floss and its packaging have been mostly made from plastic. Companies who want to do better have upgraded to silk floss or other natural fibers that are biodegradable, and do a really good job. Radius makes silk floss in plastic-free packaging, and it comes in a few flavors like cardamom, peppermint, vanilla mint, and even unscented.
Switch to a Natural Deodorant
There's a huge belief that natural deodorants don't work—but it's just that it takes your body about a month to adjust to them. If you've been using an antiperspirant, your sweat glands have been told to stop working, so they need time to go back to normal and sweat again, as they should! Natural deodorants don't keep your body from sweating, they make your pits sweat … more nicely … so try something like Tom's of Maine Natural Strength 48H Deodorant in Coconut Lavender, which is aluminum-free, plastic-free and proven to last. Best of all, they make your pits smell amazing throughout a full day. These deodorants, made from essential oils, have many scents to choose from.
Use Mineral Sunscreens
Did you know that chemical sunscreens hurt wildlife? Vastly used chemical sunscreens usually work by penetrating in the skin and protecting it from under the skin layer, but that means our bodies absorb those chemicals. But mineral sunscreens sit on top of the skin to protect it. They are made from natural ingredients that also nourish the skin with amazing natural ingredients. These ingredients also don't wash off in the waters by harming the fish and wildlife, so they also protect ecosystems that are very important for our planet. So next time try a mineral sunscreen that might impress you. Here are a few options:
Buy Only Plastic-Free or Recycled Plastic Products
This is probably the best guidance I can share. By making better purchase choices in the future, we are thinking of the future generations here on Earth, thinking of a healthier ecosystem and a better life overall. Don't get discouraged if you don't achieve that 100% right away but trying is better than nothing. I also encourage you to open this conversation with your friends and family, because that's how people will start a new journey in making better choices that benefits us all.